Drunk Driving Laws and consequences in New Brunswick
According to the Canadian Highway Traffic Act, any driver who operates a vehicle while having a blood alcohol content greater than 0.08 is committing a crime. Vehicles include all automobiles as well as aircraft and watercraft. Police officers also maintain the right to arrest anyone they suspect has been operating a vehicle within three hours of being impaired or has a vehicle in their "care or control," which can include sitting in the driver's seat while the engine is off, while above the 0.08 BAC limit. You can even be criminally charged if you are below the 0.08 limit and are driving unsafely with alcohol in your body.
Injuries and deaths related to drinking and driving have been on a decline in New Brunswick in the past decade; however, in 2007, 35 people lost their lives and 85 were seriously injured due to drunk drivers. Consequently, New Brunswick has joined the other provinces in Canada by adopting tougher local traffic laws, including giving police officers the authority to issue administrative license suspensions to drivers with a BAC above 0.05. Administrative suspensions do not carry the weight of a criminal charge, but a violation of an administrative suspension is a criminal offence.
BAC can be measured by a breath sample. Police officers can compel drivers to blow into a tube attached to a mobile device to detect the driver's BAC. Refusal to provide a breath sample results in the same consequences as blowing above 0.08, so there is never a reason to be incorporative with law enforcement.
License Suspension
In New Brunswick, no one under the age of 21 may operate a vehicle while alcohol is in their bloodstream. If you are under 21 and blow above 0.00, the following consequences take effect:
Immediate one year license suspension
Minimum $172 fine
Mandatory enrollment in the Auto Control driver's education program
Graduated License Program must be restarted from the beginning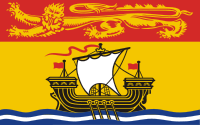 If pulled over in New Brunswick for suspicion of driving while impaired and your BAC is between 0.05 and 0.08, the following consequences apply:
Immediate seven day license suspension
If caught driving with a BAC above 0.08, the following consequences immediately apply:
Immediate 90 day license suspension
Once convicted in court of driving while impaired, the following consequences apply:
First offence: one year driving prohibition, minimum $1,150 fine, mandatory enrollment in the Auto Control driver's education program
Second offence: three driving prohibition, minimum 30 days imprisonment, mandatory enrollment in the Auto Control Plus driver's education program
Third or greater offence: five year driving prohibition, minimum 90 day imprisonment, mandatory enrollment in the Auto Control Plus driver's education program
Jail Time
Jail time is rare for first offenders, but judges have the authority to add jail time to a sentence in the presence of other aggravating factors like being inoperative with law officers, driving unsafely or having an excessively high BAC. After the first conviction, the following consequences apply:
Second offence: minimum of 30 days in jail
Third or greater offence: minimum of 90 days in jail
If an impaired driver injures or kills another person, consequences increase exponentially. According to judicial precedent in New Brunswick, the sentence for causing another person's death while driving impaired is three years in prison.
Alcohol Education
After conviction of driving while impaired, offenders must complete an educational course before their license can be reinstated. First offenders must sign up for the Auto Control program, which includes an alcohol risk assessment and a two-day course in which participants learn about the physical and social harms of drinking and driving. Enrollees must pay a fee of $235 before the class begins as well as a $62 fee to have their license reactivated.
Repeat offenders must undergo the Auto Control Plus program. In addition to reemphasizing the topics covered in the first course, the Plus program concentrates on behavior modification to control alcohol and drug dependency. Family members of enrollees are encouraged to participate and the course culminates with a "victim panel" in which participants meet people who have been most affected by impaired drivers. The course lasts a week and the cost of $480 is expected upfront. An additional $62 is necessary to reinstate a license.
Additional Fines and Fees
The minimum fine for an impaired driving conviction is $1,000, and the offender will likely have to pay a higher insurance premium.
Unlike most provinces in Canada, New Brunswick does not require persons convicted of impaired driving to enroll in a ignition interlock program; however, offenders can shorten their driving probation by voluntarily enrolling once the following conditions have been met:
The court ordered minimum mandatory prohibition period has passed
All fines have been paid
The Auto Control driver's education program has been completed
Once installed, the device must remain in the vehicle for the following durations:
First offence: 9 months
Second offence: 30 months
Third or greater offence: 48 months
Ignition interlock is a contraption that requires drivers to deliver an alcohol-free breath sample before a vehicle will start. Program enrollees must pay for the $150 installation, $50 deinstallation and a monthly $105 monitoring fee.